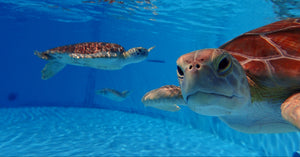 ATTENTION ADOPTIVE PARENTS!
As of January 2023, The Turtle Hospital is going completely green for any and all adoption updates.

Going green means receiving your updates through e-mail instead of receiving the paper copy through the regular post saving our facility on cost for paper, ink, stamps, and envelopes.

We thank you for your continuous support and understanding!
Every Purchase Helps Sea Turtles Survive
The Turtle Hospital has been rescuing, rehabilitating, and releasing sea turtles for over 35 years.